Joe and Moose
---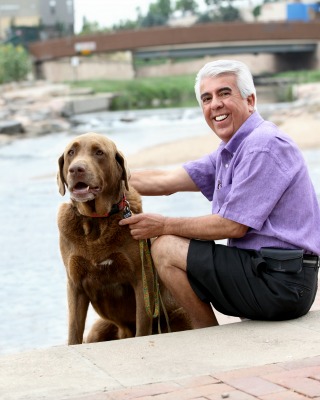 Joe
Joe is an inspiring man who was presented to Dr. Kelly in May 2011 for a mass in his shoulder. Referred by Dr. Reister, Joe had previously been diagnosed with metastatic thyroid cancer and was concerned the mass in his shoulder was cancerous as well. Dr. Kelly decided to immediately remove the mass and implanted plates, screws and donor bone to reinforce Joe's shoulder. Pathological findings of the mass confirmed the presence of a giant cell tumor and an aneurysmal bone cyst. Although Joe was doing well in his recovery, an x-ray in January 2012 confirmed a recurrence. Joe was then referred to Rocky Mountain Cancer Centers and has undergone conservative therapy with Dr. Rifkin. Despite his battle with cancer, Joe has remained positive and active. His smile and incredibly friendly demeanor would never reveal his struggles. He thrusts himself into life full force; skydiving, fishing and keeping up with his handyman hobbies. Joe is grateful for the medical care he has received, and acknowledges his doctors as the foundation of his strength. That strength has not gone unnoticed; Joe was recently asked by Allosource to ride in their 2013 float in Pasadena, California!
Joe inspires and motivates others through his volunteer support to the cancer community. Looking forward to being a part of The Foundation's patient care program, Joe has become a beacon of hope for many as he continues his amazing journey.
Moose
Moose is an easy going, four-year old Chocolate Lab! Despite receiving stereotactic chemotherapy and four carboplatin treatments for his osteosarcoma, Moose's active lifestyle has only grown. With a happy attitude, Moose favorite pastimes include spending time in the water and chewing on sticks. He enjoys his visits to the vet and gladly reciprocates any affection thrown his way.