Erin and Winston
---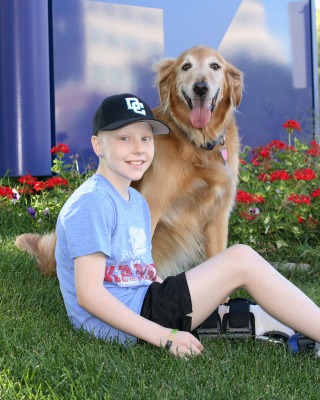 Erin
Erin is a very strong-willed and tenacious 11-year old girl. She was initially presented to Colorado Limb Consultants for an evaluation with Dr. Ross Wilkins. A biopsy performed on a bump in Erin's tibia confirmed osteosarcoma. Her medical team expanded to oncologist Dr. Jennifer Clark where she underwent chemotherapy before surgical excision of the mass. In June of 2013, Erin underwent a limb salvage procedure by Dr. Wilkins that removed one third of her tibia and replaced her knee with a custom prosthetic implant. Continuing her treatments of chemotherapy, Erin makes the most of her time at her appointments by surrounding herself with her favorite stuffed animals. The most popular one is Laura, a large stuffed trout, who accompanies her during chemotherapy and overnight stays. In addition to her stuffed animals, Erin enjoys the company of the volunteer dogs who come to visit patients in the hospital. Homer and Bishop have become her favorites and can instantly bring a smile to her face. Despite her young age, Erin engages in all the discussions about her treatment and remains active in decisions regarding her surgery.
Winston
Winston is a gentle seven-year old Golden Retriever who was diagnosed with osteosarcoma, and underwent an amputation in April of 2013. Since then, Winston has adjusted magnificently to life with three legs! He enjoys anything outdoors so long as his younger human brothers, ages two and four, are by his side dishing out belly rubs and rough housing. Every day, Winston eagerly greets his family when they return home, and they are reminded what an incredible and cherished family member this sweet dog is!
The Limb Preservation Foundation has been able to help Erin and her family with travel and lodging between Dodge City, Kansas and her appointments in Denver. The collaboration of Drs. Wilkins and Clark continue in the fight to save Erin's limb and her life.