Brock and Tiffany
---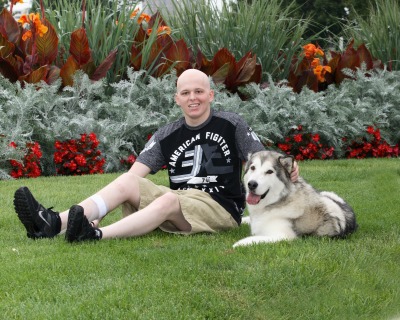 Brock
Brock is a courageous 19-year old recent High School graduate. In June of 2013, Brock was presented to Dr. Cynthia Kelly with knee pain which was diagnosed as high grade sarcoma. Due to the invasive nature of his cancer, he immediately began chemotherapy with Dr. Ioana Hinshaw at Rocky Mountain Cancer Centers. Brock is scheduled to undergo a complex limb salvation surgery in late September. Brock's strength and determination is matched by both his easy going nature and adaptability. He finds inspiration from those who have defeated cancer such as Lance Armstrong or his grandmother, a colon cancer survivor. These inspirations further motivate Brock in his fight against osteosarcoma. Brock's favorite pastimes include spending time with friends or exercising while going through treatment. He shares his hopes for a bright future with his loved ones who support his impressive ambitions. With college in his sights, Brock keeps his eyes on his promising future as he undergoes surgery and the rest of his treatment. Brock's strong spirit and supportive family are ready to fight cancer head on.
The Limb Preservation Foundation funds research in order to prevent unnecessary life and limb loss for men and women like Brock.
Tiffany
Tiffany is an eight-year old Malamute with a happy-go-lucky attitude! Tiffany conquered her fight against osteosarcoma and despite having her right leg amputated in December 2012, hasn't slowed down one bit! She spends her time talking to her family, fire trucks, and friends with a voice to match her size. Although Tiffany only has three legs, she still chases neighborhood squirrels and enjoys going for walks on a regular basis.