Karl and Sasha
---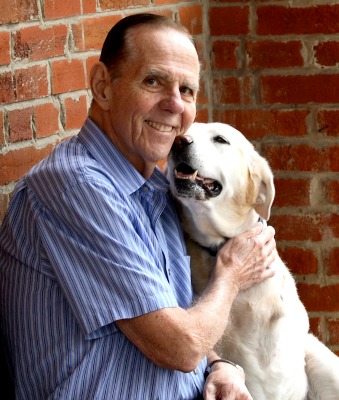 Karl
Karl is a strong-willed 81-year old presented to Colorado Limb Consultants in May 2013 with a tumor in his leg. Initially thought to be a hematoma, a biopsy performed by Dr. Ronald Hugate confirmed an aggressive sarcoma. Taking fast action, Karl immediately began chemotherapy at Rocky Mountain Cancer Centers under the care of Dr. Ioana Hinshaw, followed by a complex limb salvage operation. For years Karl has volunteered with the Colorado Mountain Club as a hiking leader and plans to keep adding to his impressive number of miles once he is fully recovered. His lively spirit inspires most he comes into contact with. Karl draws inspiration from faith as he travels his journey back to good health. With his eyes focused on recovery and getting back to the majestic peaks he so often visits, he is thankful for all the miracles that have blessed him with along the way.
Sasha
Sasha is a sweet 10-year old Labrador mix! She recently finished her chemotherapy treatments in May of 2013 after the amputation of her left forearm due to osteosarcoma. Despite the loss of her leg, Sasha remains a happy pup, whose favorite activities include belly rubs and being a couch potato. Although her mobility has changed, her sweet personality remains untouched - leaving her lap dog tendencies perfectly intact.
The Foundation has helped Karl through funding research that has dramatically reduced unnecessary limb loss and increased life possibilities. The team effort of Dr. Hugate and Dr. Hinshaw saved Karl's limb. Karl plans to finish chemotherapy and rejoin his hiking group as soon as possible.