Richard and Charlie
---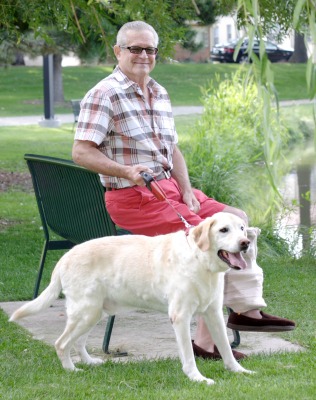 Richard
Richard is a sweet-natured grandfather who has a great passion for life. In 2012, Richard was referred to Dr. David Hahn with a spiral tibial fracture, from a serious fall in March 2010. He had an external ring fixator placed in February 2013 in order to lengthen and save his limb. Richard's ability to adapt to his fixator and set and achieve small goals in his recovery process has been truly inspiring. Every month, Richard attends the Frame Camp Clinics at Colorado Limb Consultants coaching others on life with an external fixator. His attitude and demeanor has been an attribute to encourage the group to keep improving. He enjoys spending time with his granddaughters and finds strength within his strong family structure and commitment to his faith.
Charlie
Charlie is a 16-year old Yellow Lab who had his ribs resected for osteosarcoma in 2008! With three ribs taken out, knee surgery, and a complete hip replacement, Charlie is as quirky as ever. Driven by his insatiable appetite and constant crumb scouring, Charlie has to keep up with his daily walks to work off all the snacks he demands. With his strong will and gut-busting behavior, his family is thankful to still have him in their lives.


The treatment provided by Dr. Hahn has saved Richard's limb and potentially his life. The Limb Preservation Foundation continually funds research in the hopes of advancing care for men and women like Richard.