David and Mollie
---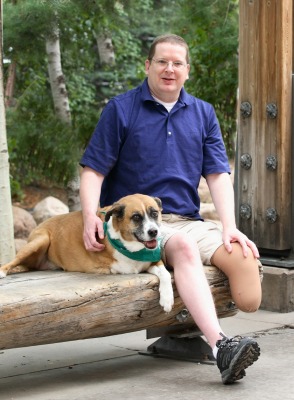 David
In 2011, David found himself in the hospital with a spiral tibial fracture, the result of a severe rock climbing fall. After some time, David's spiral tibia fracture was not improving correctly. He was then referred to team of health care professionals from the Denver Clinic of Extremities at Risk under the guidance of Dr. David Hahn. David had a ring external fixator placed on his left leg in hopes of saving his limb. Due to continued healing difficulties, David made the difficult decision to undergo a below the knee amputation in March 2013. David's wife, Heather, has been by his side to encourage, support, and motivate him in his recovery. No longer limited by an unhealthy limb, David has returned to his profession as a Veterinarian, pursuing his passion for animals. A truly inspiring man, David's drive and compassion make him an amazing Veterinarian, loving husband and honored friend. His prosthetic allows him to both move easily and get back to the active lifestyle he cherishes.
Mollie
Mollie is a gentle 10-year old Boxer! Mollie found her triumph in 2013 after undergoing chemotherapy and a subsequent amputation of her right leg to rid her of osteosarcoma. With a mellow attitude, Mollie enjoys lying around with her family and the ever-present grandkids. While she continues to make progress in her recovery, her parents look forward to the day she is able to conquer yet another obstacle – the stairs.

The research funded by The Limb Preservation Foundation has allowed David to continue leading a full and happy life.