Dr. Nicole Ehrhart is appointed to the Wilkins University Chair
---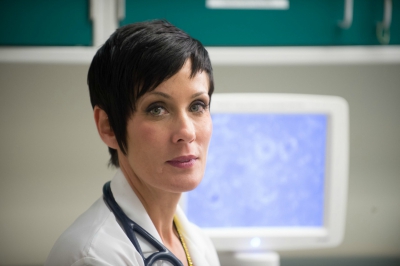 Chairs occupy an important place in academia. They are both physical and symbolic. When Dr. Nicole Ehrhart assumes the Wilkins University Chair today, she will receive an actual chair, engraved with her name and the name of the endowment that will fund her cancer research.

Known officially as the Ross M. Wilkins, M.D. Limb Preservation University Chair in Musculoskeletal Biology and Oncology, the maple chair, trimmed in black and gold, is important for what it represents: a $3 million endowment ensuring the research continues in perpetuity, and the fact that Ehrhart is the first woman at Colorado State University appointed to an endowed University Chair.
"It's the removal of another glass ceiling," said Ehrhart, a veterinarian, board-certified surgical oncologist and CSU professor of surgical oncology. "I'm very honored. It's an opportunity to represent the future on so many levels."
At Colorado State's Flint Animal Cancer Center, she teaches and treats animal patients. She also studies ways to prevent limb loss and to regenerate bones and muscle in people and animals whose extremities are threatened by cancer, infection or trauma. Ehrhart employs surgical and bone-grafting techniques, as well as biologics and stem-cell therapies.

Among Colorado State's highest honors, University Chairs are funding mechanisms used to support outstanding scholars in their quests for new knowledge in critical fields. Ehrhart is one of 14 CSU faculty members holding academic chairs endowed at $3 million.

"This is a tremendous tribute to Dr. Ehrhart's outstanding leadership as a scientist and scholar," CSU President Tony Frank said. "That she is the first woman to occupy an endowed University Chair is a significant — if long overdue — milestone for our institution. CSU has been home to exceptional, accomplished women faculty since its founding in 1870, and Dr. Ehrhart carries on that tradition with her groundbreaking work in human and animal health. We are grateful for this chance to celebrate and support her work at the highest levels."

Ehrhart's appointment to the University Chair is symbolic for another reason: The chair is named for Dr. Ross Wilkins, a Denver cancer doctor who has collaborated closely with Dr. Stephen Withrow, a veterinarian, University Distinguished Professor and founder of the Flint Animal Cancer Center. The two surgical oncologists together developed limb-sparing techniques that have become a standard of care for pets and people, especially children, with bone cancer.
The doctor and the veterinarian — seeing firsthand the value of their collaboration — spearheaded fund-raising for the chair endowment to ensure that future medical professionals will continue cooperative discoveries to save limbs.

"It's a great honor to hand it off to you," Withrow told Ehrhart when they recently conferred in her lab. "I hope I'm alive long enough to see who you hand it off to."
Ehrhart's Laboratory of Comparative Musculoskeletal Oncology and Traumatology epitomizes "translational medicine," in which findings from research into animal disease are applied to human medicine. She has been actively involved in limb preservation research, regenerative medicine, tissue engineering and sarcoma research for the last 18 years.

Dr. Rod Page, director of the Flint Animal Cancer Center and holder of the Stephen J. Withrow Presidential Chair in Oncology, affirms the endowment's role in securing the future of limb-sparing research.  "I often say, 'Cancer is cancer – it doesn't care what species you are.' This chair will allow Dr. Ehrhart, and others who come after her in perpetuity, to pursue research that will help save human and animal lives," he said.

Ehrhart described her appointment to the chair as the pinnacle of her career.  "I'm a veterinarian and I love animals, but I have a great sense of excitement about helping people, too. The greatest thing for me is the opportunity to do both," she said. "The greatest reward of this chair is that I have the opportunity to make an impact in both worlds."

Studying disease in dogs provides a fast-track option that saves money and time in moving research discoveries to patients, whether they are four-legged or two-legged. That's because dogs age faster than humans, meaning they develop disease and respond to treatment in less time.

"To get any new treatment on the market, from laboratory to the patient, it takes 15 to 20 years and somewhere around $12 billion," Ehrhart said. "The truth is that people who have these types of threatening diseases don't have that time. They needed our help yesterday. They can't sit around and wait for this to happen."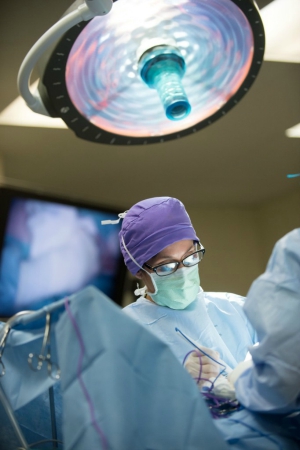 Researcher, teacher, doctor
Ehrhart certainly isn't sitting around waiting.
On a typical day, she checks on mouse cells in her lab on the second floor of the Flint Animal Cancer Center, then heads downstairs to the Veterinary Teaching Hospital for case discussion, or rounds, with 15 oncology residents, students and other veterinarians.

One recent day, discussion centered on the difficult questions that arise when a pet is diagnosed with cancer. Ehrhart helped gently lead the reluctant students into a mental health discussion. "I've had clients share suicidal thoughts. That's a scary thing," she told the room. "I say, 'Thank you for telling me,' and I offer them resources. As medical professionals, we have an obligation to help."

After morning rounds, Ehrhart and a student met with a client whose Basset hound was headed home after successful surgery. After making sure the dog had the right-sized protective collar, she crossed the hospital to the diagnostic imaging center to see another surgical patient's chest radiographs and was cheered to see the lungs were clear.

Next came surgery. Dressed in blue scrubs and a purple cap, Ehrhart might be hard to pick out in the surgical suite. But two features, in addition to her expert calm, make her stand out: She's 5 feet 1 inch tall, and a bedazzled gold lanyard peeked out from her V-neck surgical top.

By the end of the day, she was ready to check in with her two teen aged daughters and perhaps enjoy a glass of wine with her husband and friends. In her time off, she is often in the mountains, backpacking or skiing.
---
For more information contact:
Colorado State University Flint Animal Cancer Center The Limb Preservation Foundation
The Limb Preservation Foundation
Karen Hill | Executive Director | khill@limbpreservation.org | 303-429-0688