CSU Flint Animal Cancer Center
---

One Medicine
One Cancer
One Cure
 
---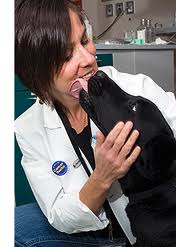 Did you know. . . that some of the leading research in prevention of limb loss due to cancer, trauma or infection happens in pet dogs?
Did you know . . . that dogs get bone cancer?
Did you know . . . that discoveries being made in animals are benefiting humans and the discoveries benefiting humans with limbs at risk of amputation are benefiting pets?
Did you know  . . . the best reported long-term survival for bone cancer, the intraarterial chemotherapy protocol developed in cooperation with Colorado State University's Flint Animal Cancer is utilized at The Denver Clinic for Extremities at Risk for treatment of osteosarcoma and malignant fibroushistiosarcoma of the extremity in children and adults.
This two-way exchange is called translational medicine and is a powerful means by which we can obtain results of investigational treatment faster.
---
Research Partners for More Than 27 Years!
The partnership with The Limb Preservation Foundation and Colorado State University Flint Animal Cancer Center has been going strong for years. It is a unique link focused on how we can partner in the discovery of new cures for cancer, especially when it affects the limbs of patients, both humans and dogs.
By this partnership we have been able make great strides in limb-saving treatments that ultimately enhance and save lives in both worlds, the human and animal world.
Several types of cancer behave almost identical in dogs as they do in people. These include osteosarcoma, the most common primarily bone tumor in people and dogs. As natural occurring cancer progresses more rapidly in dogs, we can obtain results of investigational treatment faster, and if successful, translate those findings to children and adults. The discoveries made in clinical animal patients are translated to human patients and visa versa.
This has been possible through the funding of research and the vision to develop the Ross M. Wilkins, M.D. Limb Preservation University Chair in Musculoskeletal Biology and Oncology at CSU Flint Animal Cancer Center that funds a permanent researcher at Colorado State University and scientist around the globe to reach for new multidisciplinary approaches to the most challenging issue surrounding limb preservation today.