Alex and Baron
---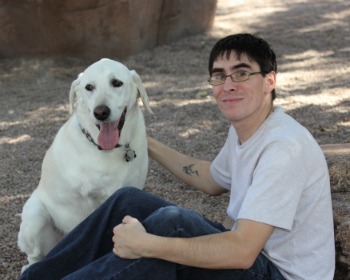 Alex
Alex Rakestraw is a 32-year-old father of three who suffered a complex compound fracture after falling off a ladder in January of 2014. After his injury, Alex's leg became badly infected and wouldn't heal, which led him to the specialized care of orthopedic surgeon Dr. David Hahn of the Colorado Limb Consultants at Presbyterian/St. Luke's Medical Center. Initially, Dr. Hahn placed Alex in an external fixator and injected stem cells in an attempt to heal Alex's bone. When that did not work, Dr. Hahn, with the assistance of plastic surgeon Dr. William Brown, performed a revolutionary surgery on Alex, where his infected bone was removed and replaced with titanium mesh.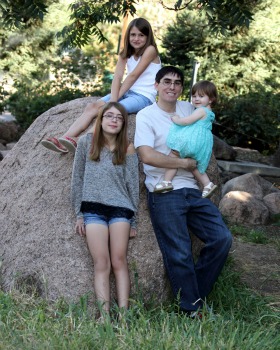 Since his most recent surgery in June of 2015, Alex has focused on his family and wrapping up his degree in IT at Front Range Community College. After his injury, Alex realized that a change in careers would likely be necessary, and he had always had a passion for computers. Between schoolwork, playing with his three adorable daughters and working to overcome his injury and become mobile again, he sure has his hands full!
Alex expressed his gratitude for being involved in the calendar this year, saying, "The whole calendar is about people who need to know they aren't alone. Sharing our stories is important." We couldn't agree more.
Baron
Baron is a sweet 10-and-a-half-year-old Yellow Lab who was diagnosed with periosteal osteosarcoma in April of 2014. This typically playful pup, who loves rough housing with human siblings, Roan (7) and Aisley (4), suddenly became lethargic and avoided putting pressure on his front right leg. A trip to the vet revealed bone cancer, which was treated with an amputation. Baron has had no signs of recurrence and has adapted very well to life with one less limb. He continues to love swimming, playing fetch, and enjoying her favorite treat, dehydrated beef liver!ay.