Limb Loss Awareness Month
---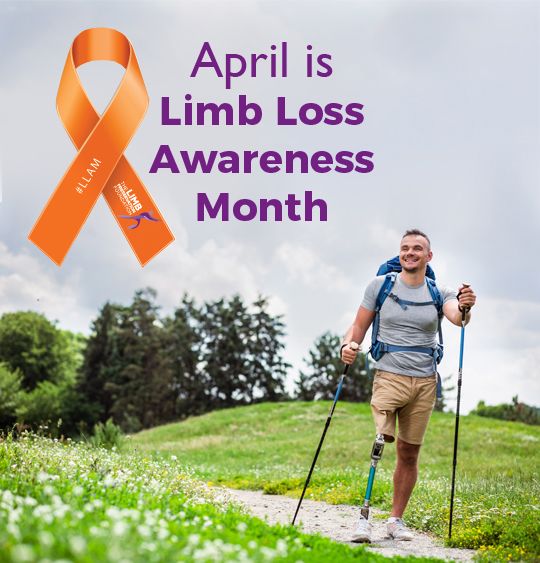 Did you know April is Limb Loss Awareness (LLAM) month? The Limb Preservation Foundation is proud to join this national movement to raise awareness of limb difference, celebrate our community and help bring people together. 28 million Americans are at risk for limb loss. Approximately 2,000 Coloradans will be faced with a limb-threatening condition in the next 12 months. Treatment and recovery for those facing limb loss is especially challenging and complex, and individuals at risk of limb loss are an overlooked and often ignored population. 
The Limb Preservation Foundation was founded for people at risk of limb loss. Each of our programs serves the specific needs of people at risk of limb loss, including our patient assistance program, scholarship programs and groundbreaking research focused on extremities. 
If you have been served by the Limb Preservation Foundation or want to make a difference to someone with a limb difference, plan to do so in April for Limb Loss Awareness Month. 
Thank you for making a difference! 
Sincerely, 
Marcy Rubic, MA, CFRE 
Executive Director 
The Limb Preservation Foundation
HOW TO OBSERVE LIMB LOSS AWARENESS MONTH
Think about your values and your connection to this cause. Congratulate yourself for all the ways that you care, because you are just all kinds of awesome. 
Think about that change from 1986 to now – from 60% mortality to 90% survival rates. Saving limbs and lives has never been more vital as it continues to evolve. Let's support that innovation. 
Make a donation to Limb Preservation Foundation's programs now. Join the ranks of those who fund hope, help and possibilities. 
It is traditional during this time to donate in honor of or in memory of someone who has been impacted by a limb-threatening injury or illness - a patient, a caregiver, a friend or family member. And to celebrate the medical professionals and groundbreaking organizations that save limbs and lives.
Your donation will go twice as far thanks to a $5,000 matching gift incentive generously made by Dr. Ross and Jan Wilkins.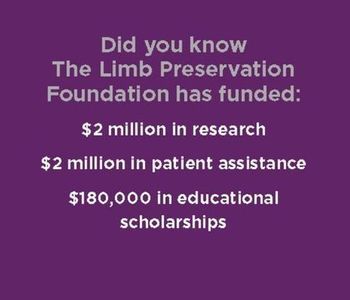 DON'T FORGET
THE MOST IMPORTANT THING.
DONATE.
DONATE IN HONOR OF SOMEONE YOU ADMIRE.
DONATE IN MEMORY OF SOMEONE YOU MISS.
Thank you for all you do to enable LPF to be a source of comfort, knowledge and support to our clients.