Sponsorship Opportunities
---
Why Sponsor?
The Limb Preservation Foundation has a long history and outstanding reputation in the orthopedic and medical communities. The organization touches the lives of more than 100,000 people in the Rocky Mountain region each year though our website, events, eNewsletters, social media platforms and patient encounters. Consider supporting us and growing your business connections if you market products and services to the Limb Preservation Foundation's nine-state region of Colorado, Wyoming, Utah, Nebraska, Kansas, New Mexico, Arizona, Montana and Idaho.
Events provide direct networking opportunities to decision-makers in the medical and orthopedic communities. Recognition and visibility with our community increases awareness of your support and drives brand loyalty. We strive to provide a quality sponsorship experience to foster meaningful connections in the limb-risk community.
FOR THE FIRST TIME IN HISTORY, WE ARE THRILLED TO HONOR AND RECOGNIZE TWO INSPIRING LEADERS.



MAUREEN TARRANT, Honorary Chair

2020 Saving Lives and Limbs Breakfast
Thursday, November 5, 2020
7:30 am to 9:30 am
Infinity Park Event Center
4400 E Kentucky Ave.
Glendale, CO 80246




ROB DAVIDSON, Honorary Chair

20th Annual Limb Preservation Foundation Golf Classic
Monday, August 31,2020
The Club at Rolling Hills
15707 W. 26th Avenue
Golden CO 80401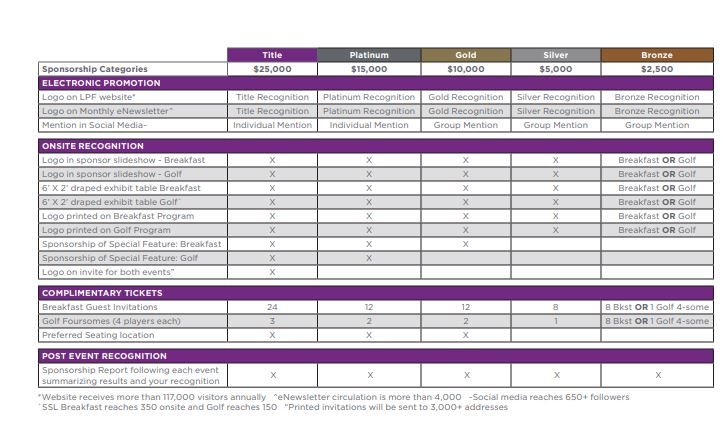 INTERESTED IN REACHING AN IMPORTANT AUDIENCE AND LENDING YOUR NAME TO AN IMPORTANT CAUSE? PLEASE FILL OUT THE FORM BELOW.