Annual Reports
---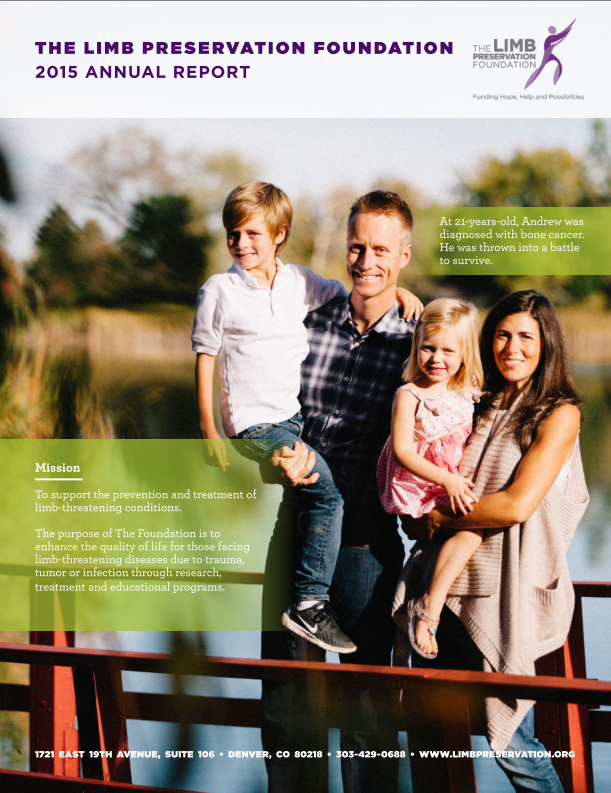 ---
To Our Partners, Friends and Supporters, 
It is with great joy and pride we share with you The Limb Preservation Foundation's 2015 Annual Report. 
This year, we celebrate the 30th anniversary of our work as a Foundation. We have experienced many triumphs over the past three decades, but are mindful that there is still a great amount of work ahead of us. After observing the impact The Foundation has had on patients and families in Colorado, we know it is critical to serve a greater population by expanding our services geographically.
To continue in expanding our reach and impact, we know we must be responsible stewards of the financial resources entrusted to The Foundation. The purpose of the Annual Report is to provide a clear picture of our ongoing efforts to carry out that stewardship.
We hope you share our sense of pride and purpose as you look through the 2015 Annual Report. Your funding advances research, supports critical care and enhances lives to help fulfill our shared mission: to support the prevention and treatment of limb-threatening conditions.
It is an honor to work alongside you in our efforts to create hope, help and possibilities for the patients and families we serve. Thank you.